Making the ordinary…
…Extraordinary!!!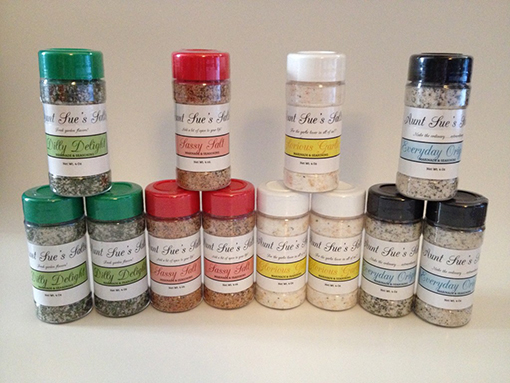 Salts
I created "Aunt Sue's Salts" out of my true love for cooking. My family and friends know that my favorite place is in the kitchen cooking for a crowd. As my slogan say's "Make the ordinary… extraordinary!" I have over the years, created my seasonings to make even a plain can of green beans top the charts!! The right seasonings can make a huge difference in the taste of your meals! The nice part about "Aunt Sue's Salts" is the fact they are all in one seasonings! You have salt & pepper, but more importantly, you have all the other flavors in just one shake!
Bryan Cornish
"A few years back I ran into Aunt Sue during a street festival in my childhood home of Mason, MI. I purchased one container of Everyday Salt just to be nice and I have been hooked ever since…. Just this past Tuesday I nearly had a meltdown, as I went to add my favorite seasoning and found both of my Aunt Sue's Everyday salt shakers EMPTY… Plus my resupply bag was EMPTY, (poor planning).. I had to start mentally preparing myself to be without it for a while, as I reordered on line. However, Just two days later reinforcement arrived via USP… I have not found anything closely resembling the flavoring that Aunt Sue's Everyday salt gives my food here in Dallas …."
Diane Hawkins
"Delicious salts! I bought a 4-pack in August.
I am buying some for my daughter-in-laws for Christmas.
Pam TenHopen Dillingham
"Met Sue at a craft show several years ago and purchased some of her salts. The Dilly's delight is our favorite. We use it on everything it is awesome, just enough seasoning without being overpowering."
Ashli McCune
"I love the sassy salt! It's perfect! I just ordered a refill and it was in my mailbox the next day! Thank you for the super fast turnaround!"
Tami Franz Pomaville
"Purchased "glorious garlic ". Love it! Used it to cook grill packets on bbq. Chicken veggies etc. Very good!"
Kathy Robins
"We love the Every Day salt and use it in place of all other seasonings. I even got my parents hooked on it!"
Teresa Wren
"Crazy good, that's all I can say. I put the original salt on all my meals. My new favorite is the Garlic.. Great gift to give anyone…"
Judy Culham
"Just makes everything taste better!!" ❤️
Rebecca Ford Southern
"My sister bought me the cookbook and salts. Best gift ever!!! Love love love."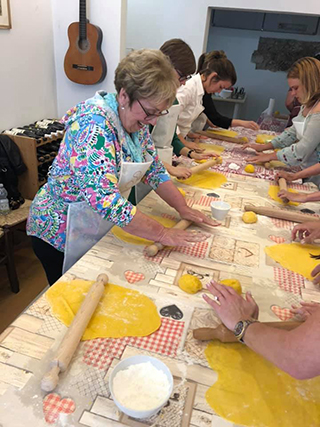 Call me anytime if you have
questions or would like to place a phone order
(517) 526-0800